So today is the official day the Queen has been on the throne for 60years! Wow such a long time, I think a lot of people are grateful for a extra long bank holiday weekend. The Diamong Jubilee concert was amazing and the amount of people who turned out for the whole weekend makes you proud to be British.
I have done a little Jubilee NOTD (not as good as some bloggers I may add)...
The pictures will go bigger if you click on them!
I used MUA, Fearne Cotton & Models Own polishes for my nails, and some stickers Rachel from
Life of a Sweetaholic
sent me, they are so cute and I love them! Perfect for the Jubilee weekend!
I also did some baking for a tea party/BBQ we had at my auntie's house on Sunday.
I used a simple Victoria Sponge recipe for the cake with whipped cream in the middle and put some Red, White and Blue limited edition peanut m and m's on the top to try and make it look like the Union Jack flag! This went down very well and was gobbled up straight away!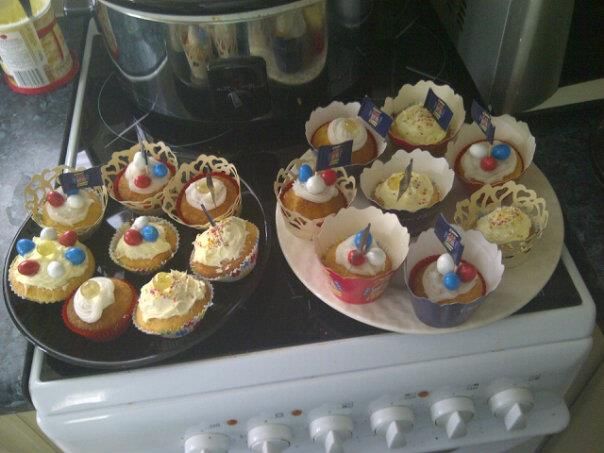 I used the same victoria sponge recipe for my cupcakes as well, and decorated them with vanilla buttercream and toppings such as sprinkles, 100's & 1000's, m and m's and some edible diamonds!
I got the edible diamonds, jubilee cake cases and flags from a special edition of My Cake Decorating magazine! These also went down well, and were yummy!!
I also thought I'd include a picture of some nail art I did for the Royal Wedding that I put up on my blog last april!
I hope you've all had a fabulous long weekend!